Custom Lapel Pin Pricing
There are a number of factors that impact custom pin pricing. The quantity of pins ordered is the single largest factor. The more lapel pins you order, the lower the unit price!
The type of pin, size of pin, and addition of specialized customization options like dual plating, glitter, custom cardstock, etc. also impact the pin cost. The pricing charts below give an estimated cost of an order based on the size and scale of the custom pin order.
For an exact price on an order of custom lapel pins, send us the details for your design.
We'll reply with a free quote along with a free full-color digital proof of your design! This custom lapel pin price quote will be all-inclusive.
We believe in simple, transparent pricing with no last-minute fees. That's why we don't charge for design services, have one production speed (FAST), and ship all orders to the US for free via UPS or FedEx Air.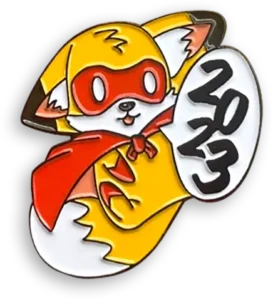 Soft Enamel Pins
| Size | 100 | 200 | 300 | 500 | 750 | 1,000 | 2,000 | 3,000 | 5,000 | 10,000 |
| --- | --- | --- | --- | --- | --- | --- | --- | --- | --- | --- |
| 0.75″ | $2.56 | $2.02 | $1.47 | $1.23 | $1.12 | $1.07 | $0.96 | $0.80 | $0.70 | $0.57 |
| 1″ | $2.62 | $2.09 | $1.55 | $1.27 | $1.17 | $1.10 | $0.98 | $0.83 | $0.73 | $0.62 |
| 1.25″ | $2.69 | $2.23 | $1.66 | $1.33 | $1.21 | $1.13 | $1.04 | $0.88 | $0.78 | $0.65 |
| 1.5″ | $2.86 | $2.43 | $1.95 | $1.44 | $1.31 | $1.24 | $1.11 | $0.95 | $0.87 | $0.71 |
| 1.75″ | $3.18 | $2.68 | $2.20 | $1.71 | $1.57 | $1.50 | $1.40 | $1.22 | $1.11 | $1.01 |
| 2″ | $3.38 | $2.88 | $2.40 | $1.90 | $1.77 | $1.69 | $1.59 | $1.42 | $1.30 | $1.20 |
Hard Enamel Pins Cloisonné Pins
| Size | 100 | 200 | 300 | 500 | 750 | 1,000 | 2,000 | 3,000 | 5,000 | 10,000 |
| --- | --- | --- | --- | --- | --- | --- | --- | --- | --- | --- |
| 0.75″ | $2.67 | $2.12 | $1.56 | $1.29 | $1.20 | $1.13 | $1.05 | $0.95 | $0.80 | $0.71 |
| 1″ | $2.70 | $2.18 | $1.66 | $1.37 | $1.24 | $1.20 | $1.15 | $1.01 | $0.91 | $0.81 |
| 1.25″ | $2.81 | $2.27 | $1.75 | $1.44 | $1.31 | $1.24 | $1.20 | $1.05 | $0.95 | $0.91 |
| 1.5″ | $3.06 | $2.53 | $2.01 | $1.53 | $1.44 | $1.39 | $1.32 | $1.14 | $0.99 | $0.95 |
| 1.75″ | $3.31 | $2.74 | $2.34 | $1.84 | $1.74 | $1.66 | $1.59 | $1.38 | $1.24 | $1.20 |
| 2″ | $3.58 | $3.08 | $2.59 | $2.09 | $1.99 | $1.91 | $1.85 | $1.64 | $1.49 | $1.45 |
Die Struck Pins
| Size | 100 | 200 | 300 | 500 | 750 | 1,000 | 2,000 | 3,000 | 5,000 | 10,000 |
| --- | --- | --- | --- | --- | --- | --- | --- | --- | --- | --- |
| 0.75″ | $2.56 | $2.02 | $1.47 | $1.23 | $1.12 | $1.07 | $0.96 | $0.80 | $0.70 | $0.57 |
| 1″ | $2.62 | $2.09 | $1.55 | $1.27 | $1.17 | $1.10 | $0.98 | $0.83 | $0.73 | $0.62 |
| 1.25″ | $2.69 | $2.23 | $1.66 | $1.33 | $1.21 | $1.13 | $1.04 | $0.88 | $0.78 | $0.65 |
| 1.5″ | $2.86 | $2.43 | $1.95 | $1.44 | $1.31 | $1.24 | $1.11 | $0.95 | $0.87 | $0.71 |
| 1.75″ | $3.18 | $2.68 | $2.20 | $1.71 | $1.57 | $1.50 | $1.40 | $1.22 | $1.11 | $1.01 |
| 2″ | $3.38 | $2.88 | $2.40 | $1.90 | $1.77 | $1.69 | $1.59 | $1.42 | $1.30 | $1.20 |
Offset Printed Pins
| Size | 100 | 200 | 300 | 500 | 750 | 1,000 | 2,000 | 3,000 | 5,000 | 10,000 |
| --- | --- | --- | --- | --- | --- | --- | --- | --- | --- | --- |
| 0.75″ | $2.78 | $2.20 | $1.62 | $1.38 | $1.30 | $1.24 | $1.11 | $0.94 | $0.83 | $0.69 |
| 1″ | $2.82 | $2.27 | $1.72 | $1.43 | $1.34 | $1.27 | $1.14 | $0.97 | $0.87 | $0.74 |
| 1.25″ | $2.88 | $2.35 | $1.82 | $1.49 | $1.40 | $1.31 | $1.19 | $1.02 | $0.92 | $0.77 |
| 1.5″ | $3.16 | $2.59 | $2.12 | $1.59 | $1.49 | $1.41 | $1.27 | $1.10 | $1.01 | $0.85 |
$100.00 plate setup fee
Trading Pins
| Size | 200 | 300 | 400 | 500 | 600 | 750 | 1,000 | 1,500 | 2,000 |
| --- | --- | --- | --- | --- | --- | --- | --- | --- | --- |
| 1.5″ | $2.37 | $1.92 | $1.71 | $1.42 | $1.35 | $1.28 | $1.21 | $1.13 | $1.09 |
| 1.75″ | $2.60 | $2.11 | $1.86 | $1.60 | $1.52 | $1.45 | $1.41 | $1.23 | $1.19 |
| 2″ | $2.79 | $2.27 | $2.06 | $1.82 | $1.74 | $1.67 | $1.63 | $1.45 | $1.41 |
| 2.25″ | $3.74 | $3.25 | $2.94 | $2.69 | $2.61 | $2.53 | $2.47 | $2.29 | $2.24 |
| 2.5″ | $4.37 | $3.91 | $3.60 | $3.35 | $3.27 | $3.19 | $3.13 | $2.95 | $2.90 |
| 2.75″ | $4.89 | $4.33 | $4.01 | $3.75 | $3.67 | $3.58 | $3.50 | $3.32 | $3.26 |
| 3″ | $5.39 | $4.78 | $4.46 | $4.20 | $4.12 | $4.03 | $3.95 | $3.77 | $3.71 |